Doral Group acquires 15% stake in Fountain Fuel to promote sustainable e- mobility hydrogen infrastructure
Doral Group, through its subsidiary Doral Hydrogen Europe, proudly announces its acquisition of a stake in Fountain Fuel Holding B.V., a Dutch pioneer in zero-emission energy stations. This partnership aims to promote the growth of sustainable hydrogen infrastructure for e-mobility in the Netherlands and accelerate the transition to clean energy. Fountain Fuel Holding B.V., founded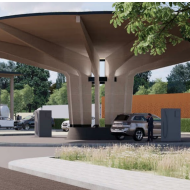 Doral Group, through its subsidiary Doral Hydrogen Europe, proudly announces its acquisition of a stake in Fountain Fuel Holding B.V., a Dutch pioneer in zero-emission energy stations. This partnership aims to promote the growth of sustainable hydrogen infrastructure for e-mobility in the Netherlands and accelerate the transition to clean energy.
Fountain Fuel Holding B.V., founded in 2016 by Stephan Bredewold and Steef Severijn, aims to establish a network of zero-emission energy stations combining hydrogen refuelling and electric charging. The recently opened station in Amersfoort is the first result of their efforts, with locations in Rotterdam and Nijmegen set to follow soon.
Fountain Fuel has ambitious plans to have 11 operational stations in the Netherlands by 2025, and 50 by 2030.
Stephan Bredewold, co-founder of Fountain Fuel, stated, "The collaboration with Doral supports us to realize our vision of a sustainable hydrogen economy. By combining Doral's expertise and resources with our innovative zero-emission energy stations, we can accelerate the deployment of hydrogen infrastructure and help the Netherlands achieve its climate goals."
Jan Willem van der Lee, Managing Director of Doral Hydrogen Europe, added, "We are delighted to be part of Fountain Fuel and their extensive expertise in zero-emission energy stations.
This partnership strengthens our commitment to sustainable green hydrogen retail solutions and contributes to our global mission of accelerating the transition to clean energy."
The collaboration between Doral and Fountain Fuel will provide a positive boost to the development of sustainable hydrogen infrastructure in the Netherlands and expanding into Europe.
By joining forces, both companies will contribute to a cleaner and greener future.